Value Your Trade
Nothing compares to the quality of a Honda. No other program comes close.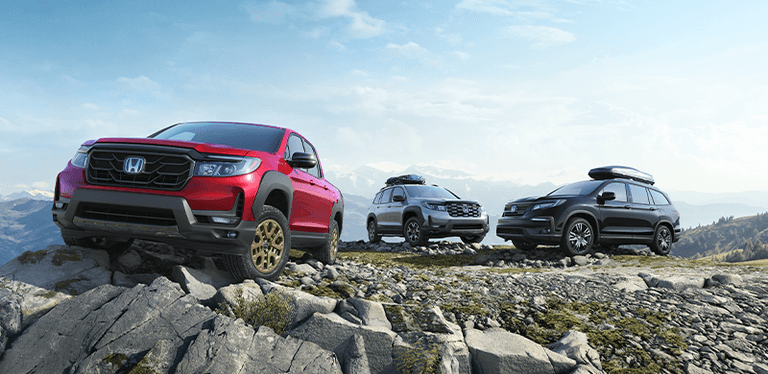 Current Offers
See this month's featured current offers going on now on Honda vehicles.
Welcome to Van Horn Honda of Glendale
When you choose this dealership, you choose a lifelong partnership with your dealer. We are committed to helping you find the right vehicle for you as well as preserving the performance, safety, reliability, and long-term value of your vehicle purchase. You can count on this dealership for an opulent service experience from the moment you enter our showroom. Visit us today at our address — our seasoned professionals are ready to answer any questions you may have.
This dealership strives to provide the best vehicles and service possible to the dealership area. Or experienced sales and service staff is available to help you find and maintain your next vehicle. Visit our showroom today and let us help you find your dream vehicle!
Our Reviews
This is the third time I have leased at this dealership. Tom is my go to salesman. There is no one else I trust more throughout the leasing process than Tom, and I highly recommend this dealership. When you walk in and ask for Tom.
Joe was a very informative and helpful sales consultant. Your service department kept me as a customer .
I have been a customer of the dealership since 1996 and continue to return for all of my vehicle purchase and service needs because of the genuine customer care that they consistently provide. Bobby and Luke were outstanding to work with for my most recent purchase. Jeremy, Chaka, Sarah, Lenny, and Kyle each also played a very valuable role. I apologize if I accidentally omitted anyone else involved. You are an amazing team! I appreciate all of you!!!
Joe and team were excellent every step of the way to make sure I had a perfect experience.
I highly recommend Luke, he is honest, very nice and will work with you. The best experience I've had at a dealership!!!
Great dealer, great deal, fantastic people to deal with. Definitely recommend them for a vehicle or service.
Associates at VanHorn were knowledgeable, friendly, helpful, accommodating and made the overall process seamless and enjoyable. We will definitely deal with them again and recommend them to anyone who wants an easy and uncomplicated experience getting the vehicle they want at the price they expect!
The dealership is amazing because of how helpful all the staff is to make the customer satisfied! I was extremely surprised with the promptness and willingness that the dealer, the sales manager, and the general manager were very supportive for me to get the best deal I could get for a brand new car, which was not my intention when I walked in. I couldn't get better service, and I highly recommend it.
Tracey was incredible. She was patient and helpful. She stayed late to make sure we drove off the lot that day with our dream car. We will definitely be back for our next car purchase.
Best car buying experience I have ever had. Tom Jr was an amazing help and so easy to work with. Chaka was super nice and a joy to deal with. Everything was arranged before I got there and the final paperwork was speedy. Will recommend Van Horn Honda to everyone I know!!!
Tracey was the most amazing saleswoman ever. She made sure everything was just as she stated. She made sure she listened to my concerns and understood everything that I needed and wanted in a vehicle. She took her time and made sure I was updated on every step. Thanks to her I'm back on the ride in a car that I love.
The experience was fantastic and super easy Chris really made sure l was taken care of and no hassle whatsoever.
Thank you for helping me buy my first car! It was an easy and stress free process thanks to Chris. He was very accommodating and helpful! I will definitely recommend this dealership to friends.
Joe was awesome! He got me into a brand new car and was so patient with me! He did a great job informing me of all my options. Thank you Joe! You're the best. I highly recommend Joe and VanHorn Honda staff as a whole.
Bought my current Honda at Hobbs. I Have been coming here for service for 10 years.
Jess was very Professional, courteous and attentive to my family and I. She was able to help us choose the perfect vehicle.
We got to work with Luke he was very respectful, the process was verg smooth and fast process, and very easy to work with!
This dealership is very friendly and helpful. They make you feel like you belong there.
Greeted with smiles and friendly employee's. From start to finish, the whole process was the perfect experience . From the service manager Sarah to the technicians, everything was explained in detail and they answered all my questions with ease. Van Horn will be my goto for all my services needs !!!
Was the easiest process for me buying a car compared to the last couple that I've had. Tom made everything easy and understandable and got every features that I wanted in my truck.
This was the best experience buying a vehicle at a dealership I've ever had. Chris was efficient and found all the info I asked for on the vehicle. He didn't pressure me, which I really appreciated. The final price ended up a little under what he told me. He and Chaka made a great team getting things finalized. They made me an excellent deal. Absolutely worth the drive up.
The dealership was clean and spacious. Everyone was friendly and helpful. We had a good experience here.
I had a great experience at this dealership. Chris was welcoming and answered all of my questions. I would highly recommend
I can honestly say this is the best car buying experience I've ever had! Tom Jr was able to get me the car I wanted and even got me a better deal than I expected! My first experience with another dealership was totally opposite from my experience at Van Horn Honda! You guys are amazing and thank you so much for making my experience something to remember!
I never went inside the dealership. The transaction was all over the phone. More words.
Get Directions To Van Horn Honda of Glendale